The Texas Rangers are World Series champions for the first time in the franchise's 62-year history after beating the Arizona Diamondbacks 5-0 to clinch the best-of-seven series 4-1.
Neither side registered a run in Phoenix until Mitch Garver drove in Corey Seager in the seventh inning.
The Rangers then gave themselves some breathing space in the top of the ninth as Jonah Heim's base hit scored two runs after a fielding error, before Marcus Semien's two-run homer meant the celebrations could truly begin.
The Diamondbacks were in contention for much of the game thanks to a strong outing from starting pitcher Zac Gallen, who threw six scoreless innings before he loaded the bases in the seventh and Garver broke the deadlock.
But the hosts stranded 11 baserunners during game five, allowing Rangers starter Nathan Eovaldi to take the win after blanking the D-backs for six innings.
Reliever Josh Sborz struck out Ketel Marte for the final out.
Shortstop Corey Seager was named as the World Series' most valuable player, an award he also won with the Los Angeles Dodgers in 2020.
Bochy's Rangers rule the road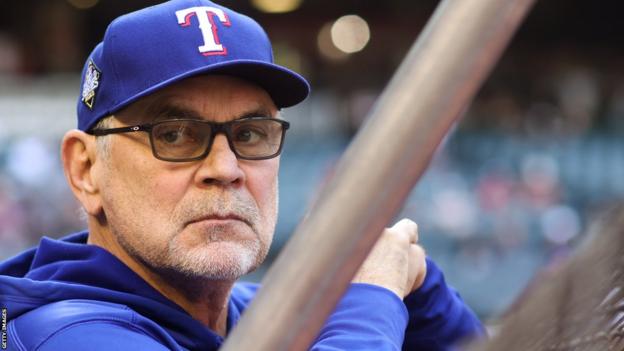 It has been a long time waiting for a Rangers franchise that began life in 1961 as the Washington Senators.
Confusingly, this was the third major league franchise to bear the Senators name. The first was wound up in 1899, the second left Washington in 1960 and is now the Minnesota Twins, while the third was an expansion franchise which was formed in 1961 and spent 11 years in the capital before moving to Arlington, Texas in 1972.
They lost their first World Series in 2010 to a San Francisco Giants side managed by the man now in charge of the Rangers dugout – Bruce Bochy. He came out of retirement a year ago to answer the call from Texas, and now sits proudly as only the sixth manager to win four World Series titles.
It has not been an easy postseason for the Rangers, who led the American League West division for much of the season, but defeat on the final day of the 162-game regular season handed the AL West title to state rivals the Houston Astros, forcing the Rangers into the wildcard round.
But having lost 41 of their 81 regular-season road games, suddenly Texas were unbeatable away from Arlington, sweeping the Tampa Bay Rays and top-seeded Baltimore Orioles, before winning an unusual AL Championship series against the Astros where all seven games were won by the away team.
Three successive World Series victories in Arizona have now stretched their postseason record to an astonishing 11 successive away wins.
"You guys just wrote history," Bochy told his players in the locker room as the champagne corks were popped.
Source : BBC