HOUSTON — Over eggs and bacon on a recent steamy morning, Colin Allred spoke to a few dozen members of labor unions from across the Texas Gulf Coast.
The breakfast was one of the congressman's stops on his statewide "listening tour," introducing himself as — he hopes — the right Democrat to take on and contrast with incumbent Republican Sen. Ted Cruz in the 2024 election, which could help determine the balance of power in Congress.
Allred's "introductory journey," as he characterized it to ABC News, includes his listening sessions and a whole lot of reminders of how, in his words, Cruz failed to show up for Texans.
Cruz, for his part, says he is ready to fight for his seat in a state that has historically been at the heart of the Republican Party, even as it has shifted more Democratic in some elections.
A Cruz spokesperson said in a statement to ABC News that he "will continue doing what he does best – working and delivering results for over 30 million Texans."
Here's what to know about Allred, who hopes to take on Cruz next year.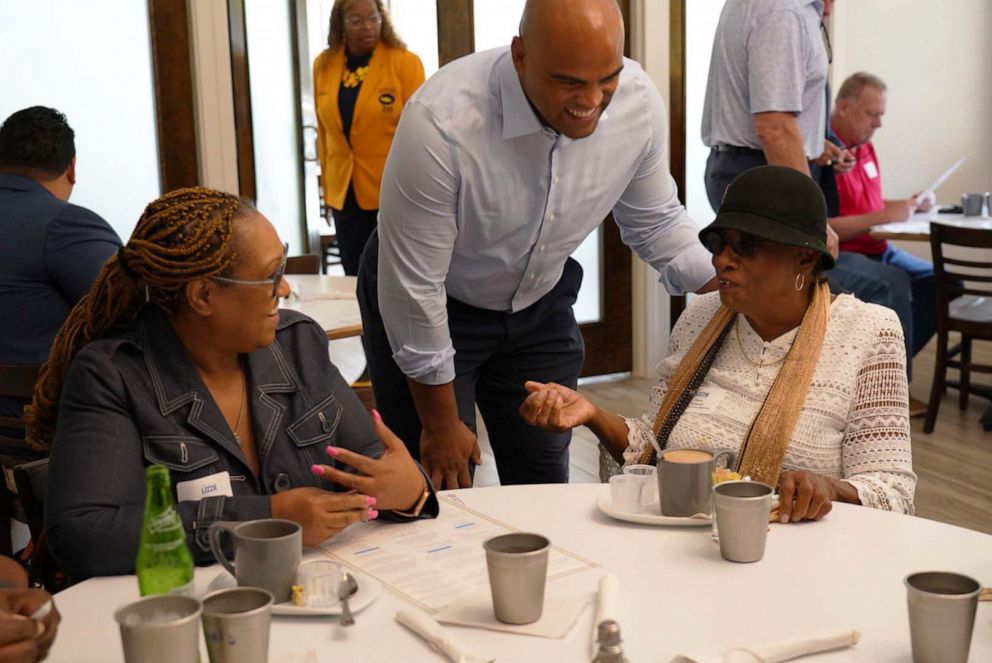 Early life and career
Born and raised in Dallas by a single mom, Allred attended Baylor University and shortly after became a linebacker in the NFL, deferring law school to play professional football.
After five seasons, an injury took him off the field and sent him back to the classroom. He graduated with his law degree in 2014 and worked at both the general counsel's office in the U.S. Department of Housing and Urban Development and as a voting rights litigator at a multinational law firm.
The fourth-generation Texan assumed political office in 2019 as a representative for the area where he grew up, defeating the Republican incumbent in the 32nd Congressional District.
In May, Allred announced he was running for the Democratic nomination in the 2024 U.S. Senate race against Cruz.
If he wins the primary, against other candidates like state Sen. Roland Gutierrez, Allred has a significant challenge ahead of him: Flip Cruz's seat blue for the first time since 1988.
Allred said he knows it will be no easy challenge. During the recent breakfast event, he told attendees, "I'm battle tested. I know how to do this. This is a close race right now. This is gonna start with a close race and it's gonna finish with a close race."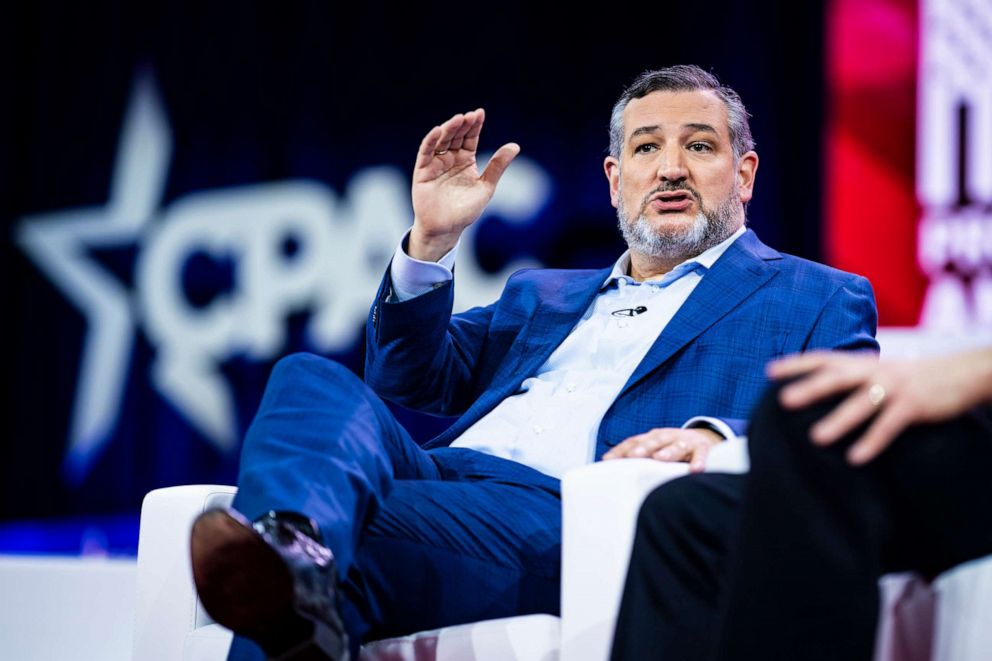 Why he's running, key issues
During an appearance on "GMA3" in June, Allred was asked why he's running. He invoked being a dad.
"I really do not want my boys to have Ted Cruz as our senator for the next six years," he said then.
Allred has made attacking Cruz central to his campaign — including the senator's much scrutinized trip to Cancun during part of the 2021 statewide freeze and subsequent power outage and Cruz's comments attacking the election results before Jan. 6.
Allred's Senate campaign site reads, "Ted Cruz refuses to tackle the problems facing Texans; he only cares about himself."
After Allred's campaign launch, Cruz tweeted, "We can't let a radical leftist like Colin Allred flip our state blue in 2024 …. help keep Texas red!"
"From the Panhandle, to West Texas, and all the way down to South Texas, Senator Cruz has visited every corner of the state," his spokesperson told ABC News, going on to accuse Allred of "barking insults and peddling lies."
Another key aspect of Allred's strategy is addressing nonvoters, he said on "GMA3."
"We had nine and a half million registered voters [in Texas] who didn't vote in the last election. We have to address that. But we also have to appeal broadly. And I think that's something that I've tried to do in my time in Congress: Be somebody who can bring people together, find common ground," said Allred, who describes himself as a Democrat with a bipartisan approach.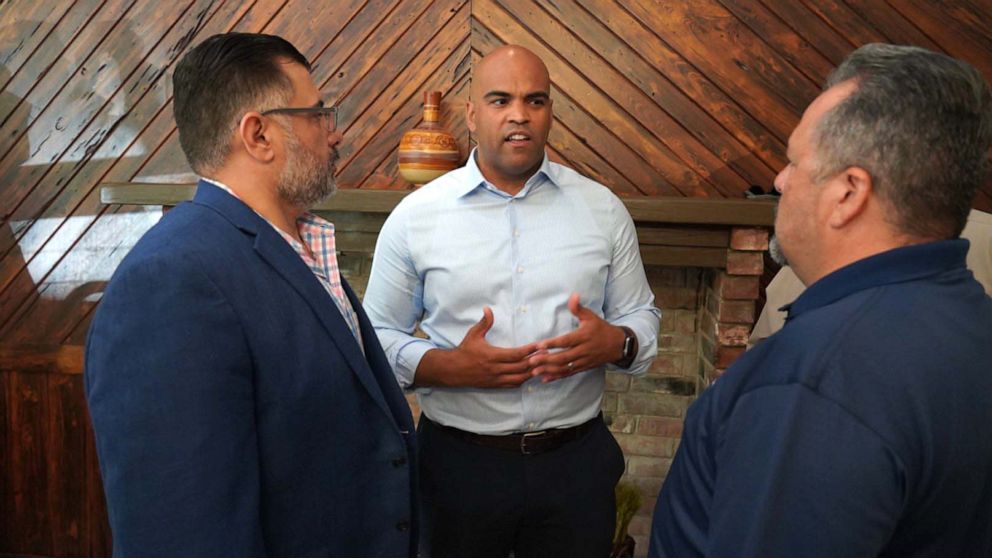 A changing Texas
Cruz won his first race for the Senate, in 2012, by double digits but only narrowly beat then-Rep. Beto O'Rourke in 2018. Allred hopes to build on that momentum.
He raised $6.2 million in the first two months of his campaign, while Cruz raised $4.4 million in his entire second quarter. In the last cycle, Cruz was outraised by O'Rourke — and still won, however.
Allred is seeking to differentiate himself from O'Rourke, telling ABC News: "I think what I'm looking to do is build on the excitement that Beto generated and, also, the clear evidence that there are many Texans who want to move in a different direction from the type of leadership we've gotten from Sen. Cruz."
Texas' demographics and political leanings have also shifted from 2018 to 2024: It's the fastest-growing state in the nation, with a significant population increase following the COVID-19 pandemic.
According to data gathered by FiveThirtyEight, counties along Texas' southern border moved to the right in 2020, which also saw a presidential election — but Democrats made significant strides in the state's four largest metropolitan cities and their suburbs, adding "almost five times as many votes as Republicans' gains in 28 counties along or near Texas's border with Mexico."
To make it to the general election next year, Allred will need to win his party's nomination. A clear early competitor seems to be state Sen. Gutierrez, who represents San Antonio and its surrounding areas. Gutierrez garnered national attention in 2022 for his dedication to implementing stricter gun restrictions alongside families of the victims of the Robb Elementary School mass shooting in Uvalde, a town in his district.
"The son of Mexican immigrants, Roland has spent his whole life fighting to create real change for communities across Texas – from fixing infrastructure to lowering the cost of healthcare. That's exactly the kind of fight he'll bring to the U.S. Senate," Gutierrez's campaign website states.
Allred has advantages of his own, one expert noted.
"Time will tell, but I do think that Allred, in particular, has the markings of strong candidate," Joshua Blank, research director of the Texas Politics Project at University of Texas at Austin, told ABC News.
"He has a very attractive life story to convey on the campaign trail … The fact that Allred was willing to jump into this race, as early as he was, to give up a very safe congressional seat to do it, tells me not only that he likes his chances, but that there are elites around him who are telling him that he will have the funding necessary to compete in a state as large as Texas," Blank said.
Source : ABC News