DALLAS – Dallas police came across a full-grown tiger while taking part in an animal cruelty investigation in Southeast Oak Cliff on Friday.
Police were executing a search warrant at a property in the 5700 block of Johnson Lane when they found a tiger in an enclosure on the property.
"These animals are not pets. They do not make good pets for the humans or for them," said Aela Culver, who works with recovered tigers at In-Sync Exotics Wildlife Rescue Service.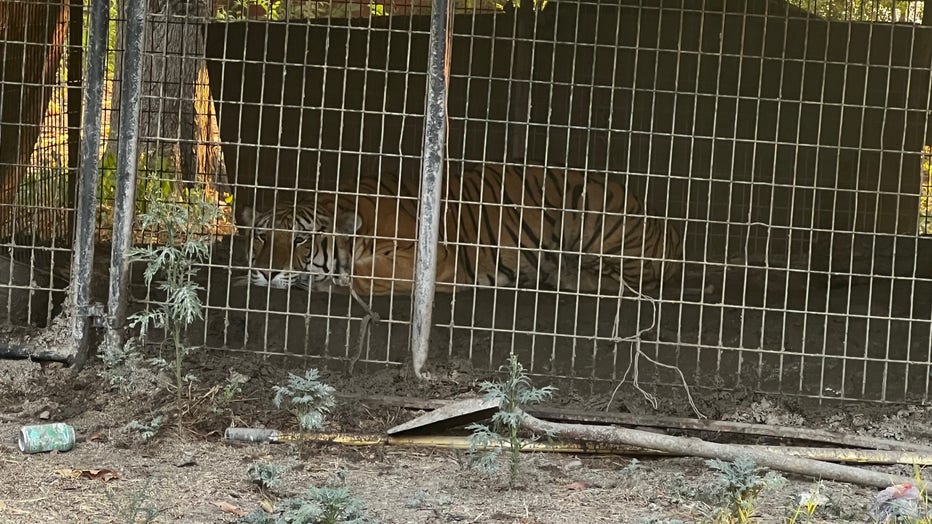 (Source: Dallas Police Department)
The tiger was seized as part of the investigation, along with dogs, roosters, and chickens.
"You're looking for things like, are they well-fed? What are they being fed? How much are they being fed? Do they have access to water? Looking for, you know, body composition. Are they real thin or they overweight?" Culver added.
[REPORTER: "It's been oppressively hot. How does that impact this tiger?"]
"Luckily, the tiger did appear to have some shade, so that was good," Culver said.
But there was no access to large amounts of water, from what the FOX 4 crew could see.
"Access to water and shade is absolutely critical in these ridiculously hot temperatures," Culver said.
Federal officials from the U.S. Fish and Wildlife Service Office of Law Enforcement and the Texas Parks and Wildlife Department have joined the investigation.
The Dallas Zoo and Dallas Animal Services are assisting DPD with the animals.
Charges are pending in the case, but police did not release any information about possible suspects.
The Johnson Lane property search was one of four search warrants executed as a part of the investigation.
The city of Dallas and Dallas County prohibit residents from possessing tigers.
"Unfortunately, there's a lot of people out there who think it's a status symbol or really cool to 'own a pet tiger,'" Culver said.
Just over one year ago, a tiger was found in Oak Cliff while police served a warrant for rapper Trap Boy Freddy.
Source : Fox 4 News