As Texas foodies know, some of the state's kitchens are run by chefs with famous names. While charisma can help turn chefs into celebrities, it's the quality of their work that keeps them there. Feasting on rattlesnake, ceviche and sushi, we tasted what it takes to make a reputation.
From Jim Bowie to Willie Nelson, Texas knows how to elevate a regular ol' extraordinary person into a star, and this mythologizing extends to the kitchen. The names of our chefs are on people's tongues almost as much as their food is. No matter how famous, our culinarians know they're only as good as their latest menu item. We sought out some chef-owned restaurants to judge for ourselves.
A Fort Worth Favorite
Denton native Tim Love owns several Texas restaurants, has appeared on morning shows like Today and Good Morning America and hosts his own show, CNBC's Restaurant Startup. No doubt [Tim Love's] success is owed partly to that easy charm; who can hate a chef who prefers a cowboy hat over a toque?
But a visit to any one of his four Fort Worth–area hot spots proves that some serious culinary chops lie behind the gregarious personality.
We started in Fort Worth's Historic Stockyards District, with lunch at the Love Shack, a burger joint best known for its signature Dirty Love Burger. Loaded with a patty, bacon, "love sauce," and a fried quail egg, the hearty meal lives up to its reputation. The Shack Dog, another crowd favorite, garnered unanimous approval from our party. Affordable and classic, the cash-only Love Shack is a solid stop.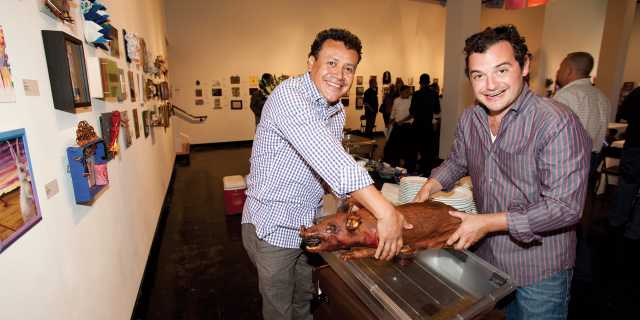 For dinner, we stayed in the area and headed to the Lonesome Dove Western Bistro, Love's flagship eatery. The moodily lit restaurant that opened in 2000 prides itself on an "urban western" aesthetic that blends tradition and upscale sophistication. The Rabbit-Rattlesnake Sausage is delectable, while the Bowl of Texas Red Chili is a masterful twist on a Southwestern staple.
If those locales don't fit your travel plans, Love owns three other spots: Woodshed Smokehouse and the historic White Elephant Saloon in Fort Worth and Queenie's Steakhouse in Denton.
A Hailed Houstonian
Hugo Ortega's rise in the culinary world is a fascinating story, a testament to what happens when willpower and hard work meet opportunity. From humble beginnings in Mexico City, Ortega immigrated to Houston in early 1984. He struggled in the service industry for years before nabbing a busboy gig at the Backstreet Cafe, which set him on the path to culinary school. Today he's a two-time James Beard Foundation Award finalist, author of his own cookbook, executive chef at Backstreet and owner of two restaurants, Hugo's and Caracol.
We sat at Caracol, a Mexican seafood kitchen in Houston's Galleria district. The place is co-owned by Ortega's wife, Tracy Vaught, who also owns Backstreet Cafe. The menu, swimming with seafood cócteles, escabeches and crudos, evokes Mexico's coastal states.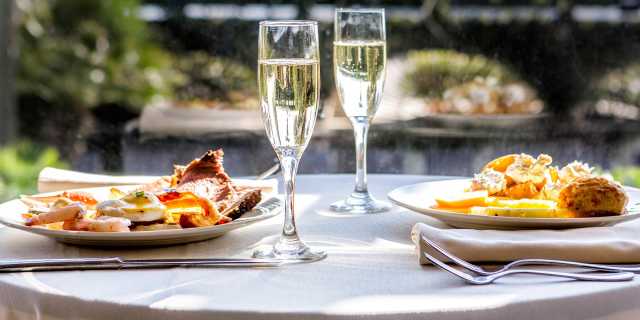 To start we picked the Ceviche de Caracol, a conch ceviche served with pineapple chunks and red jalapeño, and the Mejillones Con Chorizo Verde, mussels and green chorizo swimming in a succulent sauce. My entrée was the Mariscos al Ajillo, an incredibly delightful mini-feast of marine morsels.
Austin Icon
Tyson Cole is a past winner of a James Beard Foundation Award. Those are hard to come by, so his sterling reputation is no surprise. His flagship restaurant, Uchi, is located in the ever-so-hip South Lamar area. Among the many impeccable rolls we enjoyed there, the standout was the Walu Walu; it's filled with oak-grilled escolar slathered in candied citrus and other ingredients likely imported from heaven.
FUN FACT
Dean Fearing, owner of the Ritz-Carlton's upscale restaurant Fearing's, wanted to be a rock star before he became a chef. Many years later, after he'd accepted his culinary destiny and become the "Father of Southwestern Cuisine," he and fellow Texas chef Robert Del Grande founded an all-chef country band, the Barbwires.
Source: Traveltexas